The CES (Consumer Electronics Show) in Las Vegas, NV is famous for being "the" place to debut exciting new technology.  The 2014 CES appears to live up to the history of the show.
This article in DesignNews gives some highlights and further details:
Gadget Freaks Rejoice: CES Highlights Impressive Inventions
Take a look at some new gadgets from last week's Consumer Electronics Show in Las Vegas — a self-balancing electric skateboard, a sensor family that will keeps you on track, and a protective iPhone battery case with 32GB built-in storage.
As a new owner of an iPhone 5s, Mophie's Space Pack looks very interesting (more battery life and more storage are always important!!). The big question is how much added thickness and added weight.  The form factor in the photo below looks impressive and the Space Pack adds up to 32GB of storage and is claimed to add 100% to the standard battery capacity of the iPhone.  You do need a protective case anyway, right??
…
Space Pack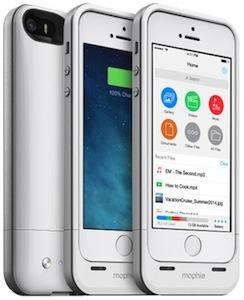 The space pack adds extra storage for your iPhone 5/5s. (Source: Mophie)
 Mophie's space pack not only serves as extra battery life, but it also increases the storage to your iPhone 5/5s. This protective battery case with built-in storage increases your iPhone battery by 100 percent and gives you up to 32GB of extra memory.
There is also a Space app that allows you to organize, share, and access the content on the space pack's storage. Once items are stored, you can access all the files without any network data usage. Another perk is that a USB cable is included so you can charge and sync your iPhone and space pack at the same time.
You can pre-order the space pack for $149.95 for the 16GB or $179.95 for the 32GB versions, beginning in March 2014.